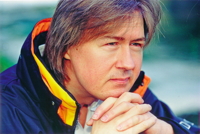 Nigel Macknight




Team Founder




Catalyst at the start

of the Quicksilver World Water Speed Record Challenge , Nigel Macknight is the craft's driver. He has devoted almost all of his professional life to conveying his

enthusiasm for engineering to a wide audience, having

authored over 700 magazine articles and ten books with subjects

ranging from the Space Shuttle to Formula 1 racing cars and the

Tomahawk cruise missile. He has also participated in many TV and

radio broadcasts, and is an accomplished public-speaker with over

200 engagements undertaken to date, both here in the UK and overseas.
     Born in Corbridge, Northumberland, Nigel became a professional

writer at the age of 21. Tellingly, his first article to appear in print

was Speed Kings, an account of the record-breaking exploits of Sir Malcolm and Donald Campbell with their legendary Bluebird cars and boats.
     Nigel began his career writing for popular children's magazines such as Look & Learn and the legendary Eagle comic. It was in these publications that he developed a niche writing about technical

subjects in a style entertaining and accessible to the wider

public. He also interviewed many stars of film, TV and sport during

this time, ranging from movie star Jeff Bridges to motorcycle racing

legends Mike Hailwood and Barry Sheene.
     Later, Nigel's career expanded into a broader role in magazine

and book production, and then publishing. In 1984, he wrote and

published what became the definitive book on NASA's Space Shuttle.

This was a best-seller, with international sales exceeding 50,000

copies. From this sprang Spaceflight News, a popular monthly

magazine which Nigel founded in 1985, and edited and published until 1991.


     Spaceflight News enabled Nigel to gain wider management and
marketing skills, as a team of correspondents and production personnel were involved, and a range of spin-off products were
developed under the SFN brand.
     Not content with an observer's role, he also involved himself in many of his subjects, competing in kart racing and Formula Ford motor-racing for seven years and undertaking high-performance flights with some of the world's top pilots, including NASA test pilot Ed Schneider and British Aerobatic Champion Iain Weston whilst
he was leader
of the Rothmans aerobatic team. In another
account he described flying with the RAF's
Red Arrows
formation display team,
including a full display rehearsal seated in the lead aircraft flown by
Squadron Leader John Blackwell.