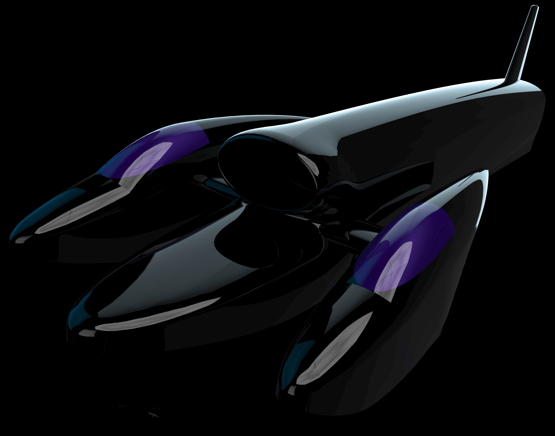 Passion,
commit
ment
and vision
Designing and building the Quicksilver craft is a major engineering challenge. A dedicated team of specialists has risen to meet this challenge: a hand-picked team of highly-motivated engineers and participating firms that has already demonstrated the level of commitment necessary to reach the goal.
     In common with all ultra-high-speed waterborne craft, Quicksilver is designed to skim over the water rather than ploughing through it. Water conditions must first be near-calm. As the boat accelerates, its hull design must be such that it can overcome water resistance by rising almost clear of the water's surface and skimming across it. Then, as the boat's speed swiftly increases as water resistance decreases, its design attributes must be such that stability – and therefore safety – is assured at all times throughout each run.
     Achieving a rapid transition from the "displacement condition" (in the water) to the "planing condition" (on the water) has been a crucial design challenge, because the lake of first choice – Coniston Water, with a usable length of a little over five miles – offers a sufficient but not generous course distance, and hull shapes optimised for ultra-high speeds are not usually conducive to making the displacement-to-planing transition rapidly, so a carefully-balanced design compromise has been necessary.
     Quicksilver is the largest and heaviest boat ever to contest the World Water Speed Record, but it is also by far the most powerful.
     With a considerable number of objectives already achieved, work continues apace. There is much still to do, but experience is being accumulated at every stage. Initial trials on water, at a location yet to be decided, will have the primary intention of proving the craft's planing capability and collecting test data. The ultimate aim is to make a record challenge on Coniston, in the Lake District in north-west England, subject to gaining the necessary approvals.
     Structural design work and construction are the team's ongoing preoccupations. Efforts are also continuing to advance the development of Quicksilver's on-board systems. The front section of the boat is receiving particular attention. It has a vee-shaped keel which incorporates a full-width "step" to assist the boat's transition onto its planing surfaces at the start of each run. The rear hull section (stern module), which is an aluminium monocoque, will be added later. Both sponsons will also be added, during final preparations for the first trials on water. In this initial waterborne form the craft will be known as Quicksilver Dash 1 and speeds will be limited to 200 mph.
     The craft will then be upgraded to its definitive Dash 2 standard and further development in this form during trials will facilitate ever-higher speeds, culminating in the record bid.
TECH SPEC

     Displacement: 3.5 tonnes
     Length: 11.8 metres
     Beam: 3.435 metres
     Height: 3.038 metres
     Structure: Aluminium, high-tensile steel, marine timber and composites
     Engine type: Rolls-Royce Spey Mk.101 low-bypass turbofan
     Rated output: 11,030 pounds static thrust at sea level (approx. max. 10,000 horsepower)
     Fuel capacity: 277 litres
     Fuel type: Kerosene
     Maximum fuel consumption: One litre per second at full power
     Electrical system: 24-volt DC
SPEED ESTIMATES
     Speed record (average of two runs): 330 mph
     Peak speed on record runs: 350 mph
     Theoretical maximum design speed: 400 mph