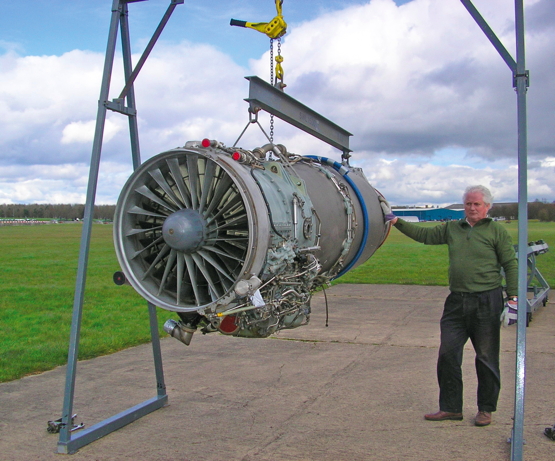 World Water Speed Record boats don't have propellers any more!
Modern-era record holders have all been powered by jet engines,
which are much more efficient. Quicksilver has the biggest and most
powerful engine ever installed in a World Water Speed Record
challenger: its
Rolls-Royce Spey Mk.101 turbofan
develops around
10,000 horsepower – more than a dozen Formula 1 racing cars running
at full throttle.
A jet engine works by harnessing the forces of nature. It draws air
through a series of rapidly rotating compressor blades,
compacting it
densely. Vapourised kerosene is injected into the compacted air,
creating a combustible fuel/air mixture that is ignited, causing it to
expand and accelerate rapidly through a further set of spinning blades
as it exits the exhaust nozzle in a continuous column of thrust.
This cycle is self-sustaining, so the faster the engine goes, the more
thrust is created.
Turbofan engines operate on the bypass principle, which results in
high efficiency and a good thrust-to-weight ratio combined with
enhanced fuel economy. The Rolls-Royce Spey Mk.101 installed in
Quicksilver has a rated static thrust of 11,030 pounds (5,008 kilograms).
This version of the Spey was developed for the Hawker Siddeley Buccaneer
S.2 bomber – a pugnacious-looking, swept-wing aircraft
renowned for its scintillating low-level performance and immortalised
as "The last all-British strike aircraft."
Buccaneers served with the Royal Navy, the Royal Air Force and the
South African Air Force.
To start the Spey engine in Quicksilver, we use a Garrett AiResearch GTCP-85 turbine engine as an external auxilliary power unit (APU). Our particular APU was brought to the UK from a United States Air Force air-base near Cologne in Germany, where it had been used to start American-built versions of the McDonnell Douglas Phantom multi-role combat aircraft.
Roar power! ...
The Quicksilver team acquired this Buccaneer aircraft, complete with its two Spey engines, as part of the project's development phase – thereby underscoring our commitment to the Spey, with a total of five units to hand. For a ten-year period we operated this aircraft in a unique role as an engine test-bed and support crew proficiency trainer for the Quicksilver project, hangared at Bournemouth International Airport. Gradually we were able to restore it to fast-taxying condition, then continued to carefully maintain it and undertook ground-runs routinely right up until August 2008, in order to ensure full engine-function capability. The maintenance regime included full-power static engine tests, high-speed (100-mph) "take-off"-type main runway outings, and numerous systems checks.

Resplendent in the Quicksilver team's distinctive metallic-silver colour scheme,

this impressive aircraft was a clear indication of our determination to move beyond the theories of fast-boat design and onward to practical applications.

The Quicksilver Buccaneer, an ex-MoD aircraft which in service bore the military serial XX897, was a unique hybrid aircraft – part Buccaneer, part Tornado interceptor. It never saw squadron service, having been used as a test-bed aircraft from the outset, and featured numerous modifications which distinguished it from standard Buccaneers, including bearing the nose section of a Tornado F2: the legacy of its time supporting trials of the Foxhunter radar system.

Spey: A pace-setting engine on water, land and air

After the Mk.101, produced for the Buccaneer, later versions of the Spey powered – and in many cases continue to power – a bewildering variety of aircraft and ships … not to mention one very special car! Diversity of use and longevity of service are the hallmarks of a true classic – a great and versatile engine.

Nimrod MR2 and Nimrod R1 reconnaissance aircraft up until recently in service with the Royal Air Force had Spey engines. The Spey also powers the AMX Ghibli strike/trainer aircraft currently serving with the air arms of Italy and Brazil. Spey engines formerly powered BAC 1-11, Hawker Siddeley Trident and Fokker F28 Fellowship aircraft operated by airlines around the world, as well as the McDonnell Douglas Phantom multi-role combat aircraft which served with the Royal Air Force and Royal Navy, and Grumman Gulfstream executive jets operating in the corporate sector. In addition, the first of NASA's two QSRA research aircraft was powered by the Spey.

In America, the Allison company built the Spey engine under licence as the TF-41-A, to power the Ling-Tempco-Vought Corsair II strike aircraft. And a licenced version of the Spey built by the Chinese and known as the WS-9 Qin Ling powers the Xian JH-7 fighter-bomber (also known as the FBC-1 Flying Leopard).

Richard Noble's ThrustSSC car, in which Squadron Leader Andy Green set the current World Land Speed Record of 763mph in 1997 – and, in doing so, became the first to exceed the speed of sound on land – was, lest it be forgotten, powered by a brace of Spey engines.

On water, too, the Spey has already excelled. The Marine Spey, a turboshaft engine, is still produced today by Rolls-Royce and powers no fewer than seven ship classes, including the Royal Navy's Type 23 frigates, providing a power output of 19.5 MW. The Marine Spey incorporates technology from two other Rolls-Royce engines – the Tay and the RB211.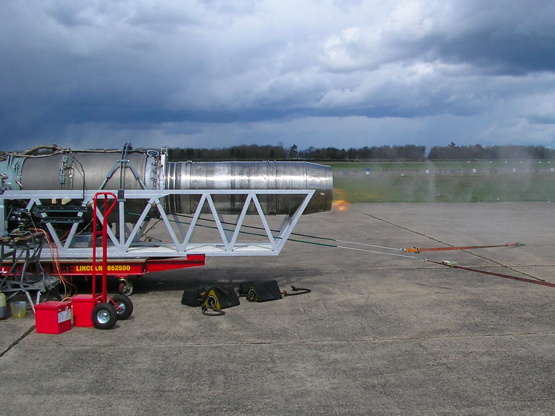 This picture shows a Quicksilver engine "tie-down" test under way at Bruntingthorpe Proving Ground in Leicestershire in April 2008. At that stage in the development programme the Spey was installed in the hull on temporary mounting structures designed by Glynne Bowsher and made for us by Lindum Group. The engine has since been installed on proper mounting structures, enabling tethered tests at full power.

A key part of optimising the Spey for ultra-high-speed marine use has been the removal of unnecessary weight from the 1.2-tonne engine. Several hundred kilograms have been pared away. Among the many modifications we made to Quicksilver's Spey in the interests of weight-saving was the removal of external ducting which had diverted air to flow over the flight-control surfaces when in the engine was in aviation use, to improve the aircraft's low-speed performance. In addition, we have deleted most of the anti-icing system hardware, as the extremes of temperature seen in flight will not be seen in marine use.

Many other small, but important, modifications to Quicksilver's engine have been made to protect the environment and to aid ease-of-operation. These adaptations have included fitting a system of drain-pipes and catch-tanks beneath the engine to retain fluids discharged from the engine, so that these fluids do not enter the lake and cause pollution.

Another notable modification has been the re-routing of the oil replenishment system so that it can be accessed from above, rather than from underneath. The original oil filler-valve which was in use when the engine was installed in an aircraft becomes impossible to access once the engine is ensconced within the hull of the boat. Quicksilver's Graham Pool is seen using the revised system in the photo below, taken at our East Midlands Airport HQ.

Profile … propulsion specialist Graham Pool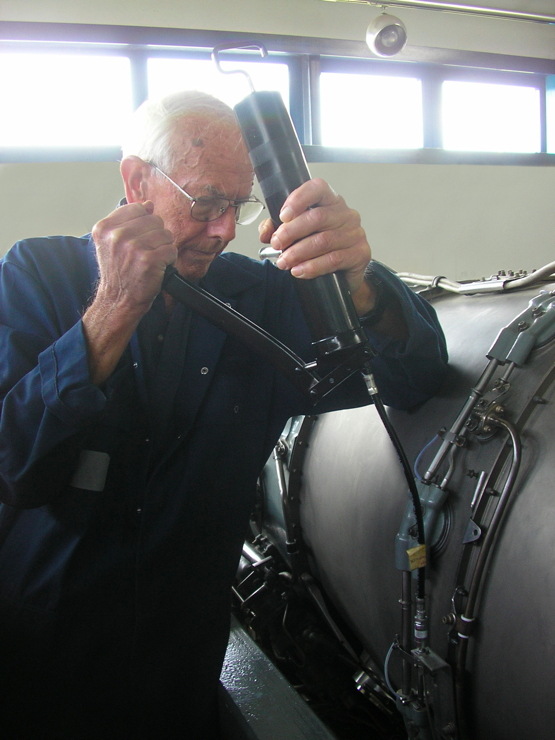 Quicksilver's propulsion system specialist, Graham Pool, is a modest, self-effacing man with the quiet assurance of one with a lifetime's experience in his chosen field. Graham served in senior engineering positions with Rolls-Royce for almost 40 years. He was the deputy service manager for the military Spey engine installed in Buccaneers and the British-built version of the Phantom, then was promoted to service manager for the Anglo-French Adour engine installed in Jaguar strike aircraft and Hawk trainer/strike aircraft, including the Hawks used by the Red Arrows display team.

Graham's work in these two posts often took him beyond British shores, to America, Africa, the Middle East and the Far East.

When the military version of the Spey was selected to power the United States Navy's Ling-Tempco-Vought A-7 Corsair II strike aircraft, Graham was a key member of the Rolls-Royce technical team which successfully brought this about.

Subsequently, Graham transferred to the civil-engine side of Rolls-Royce, to the sales department, with responsibility for Africa initially, then the Middle East, and then finally the Far East, where he played an important role in successful bids which led to several of China's major airlines placing large orders for airliners with British-built engines, rather than American. During this period, Graham and his wife Diana resided in Tokyo, Japan, for four years.

In the main, Graham's successes in China revolved around the equipping of Boeing 757s with the RB.211-535 turbofan. But Hong Kong proved fertile ground, too, with Cathay Pacific selecting the RB.211-524 for its Boeing 747s and Dragon Air purchasing the Trent turbofan for its Airbus fleet. There were also sales of the Tay turbofan to operators of the Fokker 100 medium-range airliner during this time, and Graham renewed his long relationship with the Spey with sales of those to owners of Gulfstream 2s, Gulfstream 3s and Gulfstream 4s.

In spite of his enduring relationship with aviation, Graham is no stranger to things nautical. After serving his apprenticeship at the outset of his career with Rolls-Royce, he chose a two-year stint as a ship's engineer in the Merchant Navy to the other obligatory alternative, National Service.

To this day, 2013, Graham has a close involvement with Buccaneers and the operation of Spey engines in them, for he is part-owner of two "Buccs" that are regularly put through their paces on fast-taxi runway demonstrations at Bruntingthorpe Proving Ground, near Lutterworth. He has been a highly active, hands-on participant in the maintenance and operation of both Buccaneers for almost ten years now, and has no plans to end his enduring relationship with this well-loved old warrior. Graham is a major shareholder in The Buccaneer Aviation Group (TBAG), which owns and operates the two aircraft. TBAG and Quicksilver have collaborated closely for the past seven years, sharing know-how, spares and support equipment to our mutual advantage.


Graham resides in the village of Newton Solney, near Burton-upon-Trent. He began his participation in the Quicksilver project in 2007.