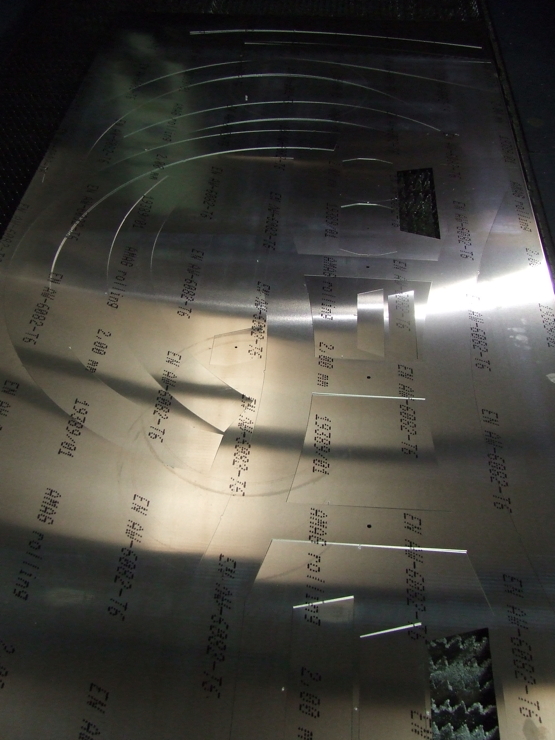 Al
u
min
iu
m
, steel, marine timber and an assortment of composites are the materials in Quicksilver's
construction. But that bald statement of fact barely scratches the surface of the story.
It is how materials are used that matters. Quicksilver is very strong
and rigid, yet it is also lightweight for its size, engine power
and speed potential. Designing and building a structure that is very strong
and rigid is easy. But designing one that is very strong,
very rigid and light is not. It should go without saying
that if a boat is lightweight in relation to its power, it will
accelerate faster and in a shorter distance. It will also decelerate faster,
and in a shorter distance, and generally out-perform, a heavier craft of the same power output.
     The desire to keep weight down is therefore very easy to appreciate. But what about stiffness and strength? Why are they so important too?
     Quicksilver's hull structure – because it will move very fast – will be subjected to complex and immensely powerful dynamic forces. Those forces increase as the square of the speed. So the stresses and strains at 200mph are four times greater than they are at 100mph. And at 400mph, these loadings become 16 times greater than at 100mph. In other words, the magnitude of the forces rises exponentially. A structure that is not strong enough would simply break under such colossal loads. And a structure that is not rigid enough, as it flexes excessively under the forces imposed upon it, would cause the angles of the boat's points of contact with the water to alter erratically as it speeds along the lake, thereby compromising its handling and stability.
     Because Quicksilver is designed to travel faster than any machine has ever travelled on water before, it must have a hull design and construction like no other. Very strong, very rigid, but also lightweight for both its size and the forces it must withstand.
     Yet in the midst of all this, we wish to employ (for the most part) materials and construction methods that already have a proven track record in water-speed use – this, for reasons both of safety and affordability. That said, we have embraced opportunities to extend the existing experience base in areas where we feel it offers sufficient performance gains, conducive with maintaining the high safety levels we demand. A good example of this is the use of structural bonding techniques on Quicksilver.
     The central section of the hull serves as the structural "backbone" of the boat. It consists of a spaceframe fabricated from high-tensile steel tubing, bearing fabricated aluminium upper-hull structures and an external skin of marine timber, Kevlar and carbonfibre which, all acting in concert, increase overall strength and rigidity, bestow water-tightness, and contribute to the desired hydrodynamic and aerodynamic characteristics of the craft.
     In the image above, a large sheet of aluminium alloy has been laser-cut by a pre-programmed routing machine to create individual parts from which one of Quicksilver's major internal structural components was fabricated. Much of the craft's structure is aluminium alloy, but materials and methods of construction vary throughout the boat, according to the specific structural requirements in different regions.
     For example, the entire stern section of Quicksilver is a unitary (monocoque) structure made of aluminium, and extensive use is made of bonding techniques rather than welding. Contrast this with the central section of the boat – with welding employed exclusively in the steel spaceframe, aluminium structures bolted on, and a marine timber and Kevlar cladding. The front section of the boat is constructed from aluminium, marine timber and Kevlar, carbonfibre and thermoformed structural foam, employing techniques not dissimilar to those used in conventional competition-craft and leisure-craft building.
     Several companies have collaborated with the Quicksilver team in the hull build to date …
     The high-tensile steel tubing for the hull spaceframe was made for Quicksilver with material supplied by British Steel/Corus.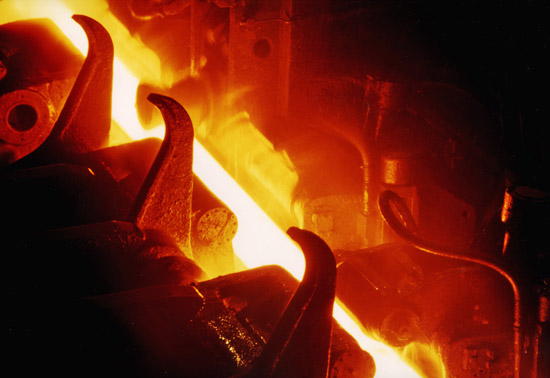 White-hot steel roaring across rollers to a Corus of hissing steam, a foundry gives birth to the fastest boat on Earth and Industry rises to the challenge of doing what Britain does best!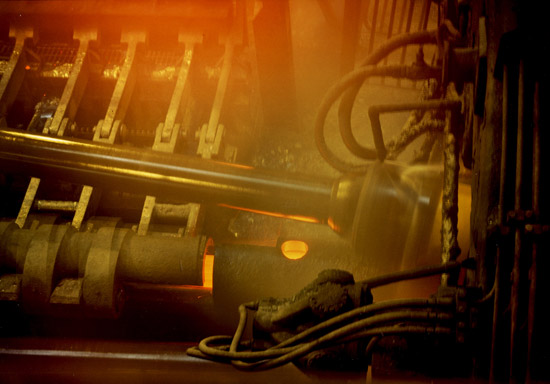 The foundry, at Wednesfield, Wolverhampton was where the initial manufacturing process for Quicksilver's hull spaceframe took place. It was the production of a "tube hollow", the partially-formed expression in steel of a shape that would subsequently be drawn out into long, straight lengths of two-inch-square tubing (the two dramatic images above were taken in the very first moments that Quicksilver began to take physical form). This basic tube material was then transported the short distance south to tubemaking specialist Accles & Pollock at Oldbury for completion and emerged as 33 lengths of BSI T59, each 20 feet long. Paul Rollason led the technical input by Accles & Pollock.
     Production of the tubing was a project landmark, in that it was the first demonstration that British industry would get behind the boat build. We gratefully acknowledge to this day the commitment shown by Corus/Tata Steel and Accles & Pollock at that early stage.
     Quicksilver's hull spaceframe design has been the product of two highly-experienced engineers. Glynne Bowsher was responsible for the bulk of the design, which allowed the initial phase of manufacturing to take place, then Roland Snell subsequently augmented Glynne's work.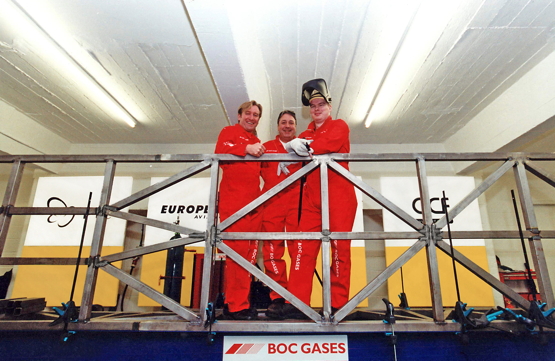 Special welding techniques were developed for us by BOC/Linde to fabricate the hull spaceframe, and were independently tested and certified by The Welding Institute in Cambridge. Welding, by the TIG method, was undertaken by a team of three of BOC's top developmental specialists: Steve Moynihan, Chris Birch and Craig Rollinson. Some years earlier, Steve – pictured at centre in the image above, as Quicksilver began to take shape – had participated in welding work on the spaceframe chassis of Richard Noble's ThrustSSC supersonic car, which the RAF's Squadron Leader Andy Green drove to set the current World Land Speed Record of 763.035 mph.
     When welding of Quicksilver's hull spaceframe was completed, BOC's team undertook non-destructive testing (NDT), using the dye-penetration method. This ensured that there were no flaws – hairline cracks, for example – in any of the welds.
     For BOC's far-sighted decision to participate in the Quicksilver project, we are deeply indebted to Dr. Duncan Yates, the late Dr. Wendy Peters, and business development manager Shaun Schofield.
     The mountings which hold the Rolls-Royce Spey engine in Quicksilver's hull were made for us by Radshape Sheet Metal , of Aston, Birmingham. These are a combination of all-new fabricated structures, all-new machined components, some adapted Buccaneer aircraft engine-mounting parts, and some standard Buccaneer engine-mounting parts. The two side (trunnion) engine mountings are manufactured in steel, while the rear (upper centreline) engine mounting, currently also in steel, is incorporated within a large hoop structure fabricated in high-performance 7020-T6 aluminium alloy.
     Detailed design of a second hoop structure – which also has the ability to partially support the engine, if required – was duly undertaken, and its manufacture by Radshape in 6082-T6 aluminium alloy was completed in January 2012. This hoop, situated forward of the other one, is known as the trunnion hoop.
     As well as their role in the engine-mounting scheme, both of these hoops make an important contribution to the overall strength and rigidity of the central portion of the main hull structure.
     Credit for the design of the hoops and engine mountings goes to several engineers, including Roland Snell and Tim Harrison. We also gratefully acknowledge the contribution of Glynne Bowsher, who kindly undertook the early conceptual work on this aspect of Quicksilver's design.
     A third hoop, known as the intake hoop – situated forward of the engine-related hoops described above – was added to the boat in April 2013. A key function of this hoop is to serve as the upper mounting point for two bracing struts which extend diagonally forwards and downwards from the top of the main hull to the tops of the sponsons. In addition, the intake hoop itself contributes further strength and rigidity to the hull structure, and will serve as the aft mounting point for the engine air-intake module and the forward mounting point for the front engine cover. Radshape was, once again, the firm entrusted with manufacturing this hoop, which is an all-new design from the Quicksilver team.
     Detailed design of the craft's bow/foredeck/keel region is being led Mark Evans, an engineer with considerable marine-structures experience. The manufacturing process for this section of the boat began in March 2013, when Trident Foams, of Furness Vale, High Peak, CNC-machined the mould for the foredeck outer panel. This mould then passed to the Nottingham premises of CC Composites, where the foredeck panel itself was made in April. The foredeck is 17mm thick and has a sandwich construction comprising of two, triple-ply, Hexcel twill-carbonfibre skins encasing a core of Airex R63.80 structural foam that was pre-thermoformed to the required 3D shape then consolidated with the skins by vacuum-induced resin infusion.
     The shape of the craft's hulls was developed by the internationally-renowned marine architect Lorne Campbell, in collaboration with Mike Green, the team's aerodynamicist. Lorne has contributed his expertise to the Quicksilver project at key junctures over a considerable period of time. We have, throughout, been most thankful for his vital input.